Disciple Now 2021
REGISTER, SCHOLARSHIPS, & F.A.Q.
D-NOW 2021 is here!! The first event of 2021 for GSM is going to be INSANE! This year, we're talking about storms; preparing for them, going through them, and recovering from them. With powerful teaching from David Marvin, and CRAZY awesome worship by Portraits, it's going to be a weekend you for sure don't want to miss.
---
What is D-NOW?
Disciple Now (D-NOW) is a weekend retreat/conference event for 6th-12th grade students. Friday night to Sunday morning , students will participate in large group worship, small group Bible studies, and Saturday afternoon outreach/recreation. Church members host the students in their homes, organized by grade and gender, and each group is led by college students, all cleared with background checks, thorough interviews, and appropriate training.
DATES: February 12-14, 2021
COST: $70 per student ($60 for each additional sibling)
DEPOSIT: You can secure your registration with a $25 deposit per student.
Cost includes event registration, appropriate materials (small group booklets, etc.), all meals, and a t-shirt.
WHERE is D-NOW?
D-NOW combines events at multiple locations across Parker County. Please see the list below for all the info:
• Greenwood BC: Check-in, Small group #4, and Check-out
• North Side BC: Large group worship, small group #2, Saturday lunch
• Host Homes (GBC Members): Small groups, meals, students also stay the nights here.
What is The sCheDULE?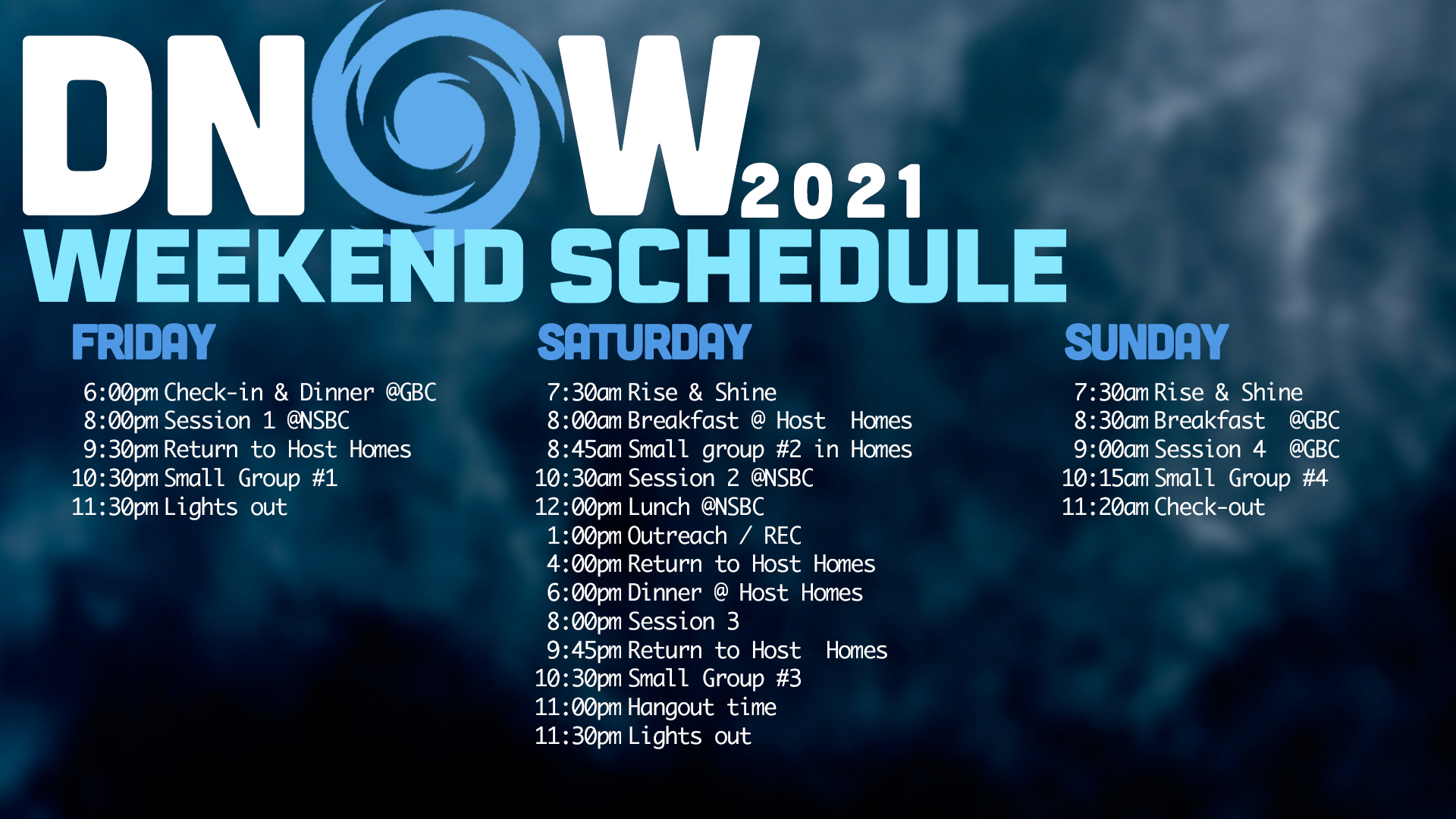 WHO CAN GO TO D-NOW?
All students currently in grades 6-12 are eligible to attend D-NOW.
CAN STUDENTS BRING PHONES TO D-NOW?
Yes. Students are allowed to bring their phones to D-NOW. However, if the phone proves to be too much of a distraction during large group or small group times, or at night around or during bedtime, college leaders and student pastors may take them up until the next day, or until the session is over. Some leaders may also require students to all charge their phones at night in the same place to ensure they are not a distraction or keeping students awake too late.
WhAT SHOULD I BRING TO D-NOW?
You can click here for a D-NOW packing list.
WHO IS SPEAKING/LEADING WORSHIP?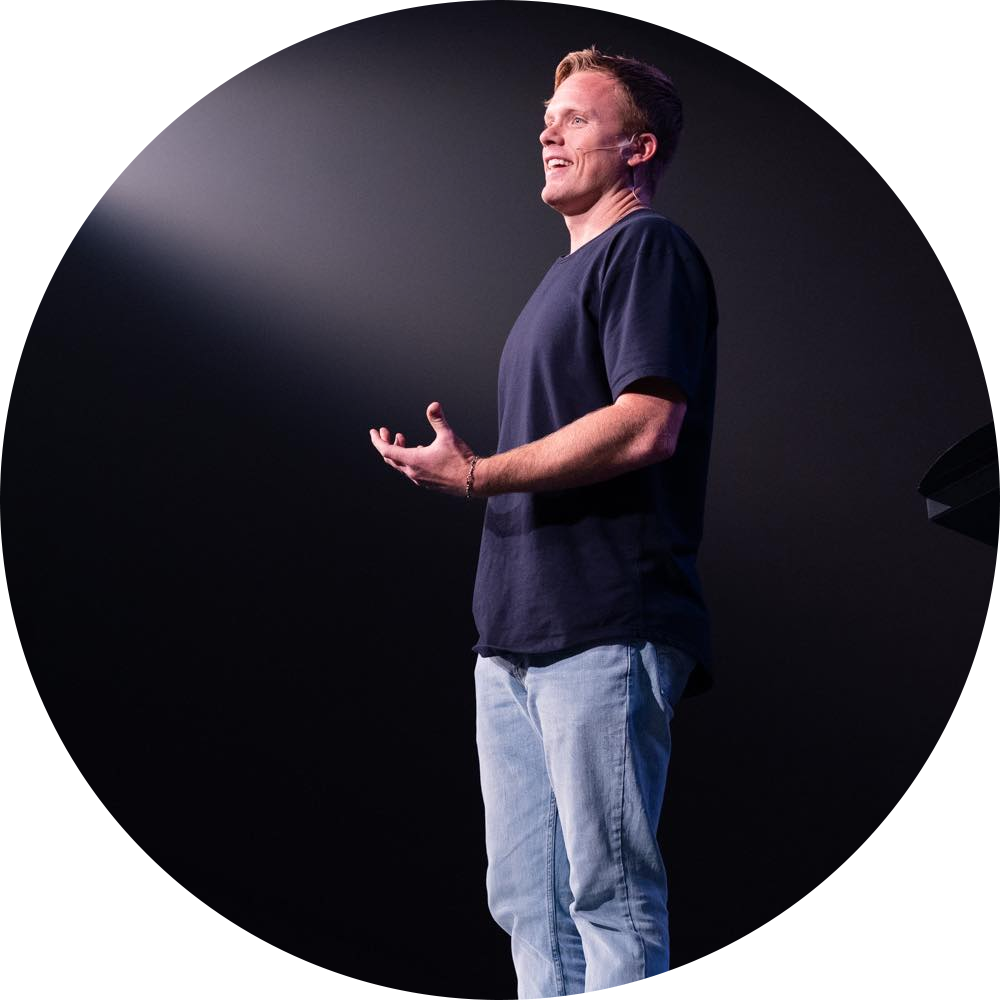 David Marvin
Speaker
I grew up in Houston, Texas, and moved to Dallas shortly after attending Texas A&M. I accepted Christ as my Savior at a young age, but began seriously walking with Him at Texas A&M. It was during this season that I went to work for Kanakuk Kamps and continued to do so for the next four years. At Kanakuk, the Lord ignited a passion in my heart for how great the Church (not just the parachurch) of Jesus Christ could be, and should be. In 2009, I came to Watermark Community Church in Dallas and was given my first view of "how great" the church could be, it has changed my life, and "ruined" my perspective on Church. Watermark is my first true church home, and so this body has shaped what comes to my mind when I think of the "church". Alive, authentic, biblical, excellent, innovative, without "politics" or hypocrisy, full of grace and truth, and nothing like what so many in our world seem to think when they hear the word "church".
Aside from being called servant of Christ, my greatest title is "Calli's husband". Calli is my wife, ministry partner, and daily example of godly living. She makes me love Jesus and people more. You should get to know her and the God she serves.
I have the privilege of serving in the Young Adults ministry at Watermark. Throughout history, one age group has consistently had incredible influence on the culture and world around it: young adults. We love this age group, and believe it is crucial in its influence, and limitless in its potential impact.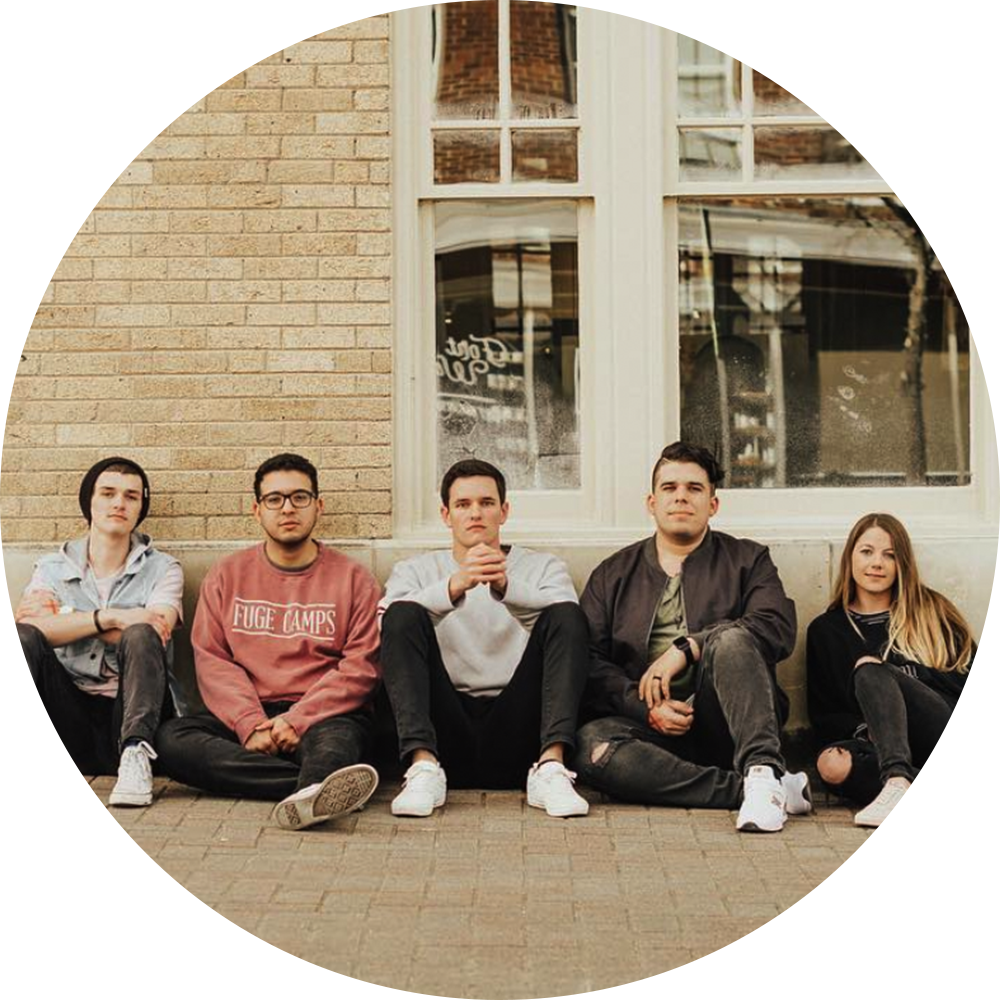 Portraits
Worship
Portraits are a collective of artists, creatives, and musicians who share a passion for serving the local church and worshipping Jesus with everything they have.
We lead worship at churches, retreats, conferences and camps with high energy and a foundation in scripture to help ministries accomplish their goals and bring people to know the goodness of Jesus.
We create music and media that we hope will inspire the Church, specifically the next generation, to see Jesus more clearly and respond to the good news of His story.
We live in different parts of Texas, serving local churches in different areas while creating and serving to see the name of Jesus be glorified.
I STILL HAVE MORE QUESTIONS
You can email Ty Hirsch (Fuse Middle School) or Jon Hartman (Ignite High School) with any further questions you may have.
MIDDLE SCHOOL
HIGH SCHOOL
---