Intensity
YOUTH CAMP
GET READY FOR THE BEST WEEK OF YOUR LIFE!
Intensity got its name for a reason! We take all of our middle and high school students down to Brownwood, Texas for a week full of fun, worship, teaching, and small groups! Jesus blows our minds every year with what He's doing. We have seen dozens of students meet Jesus for the first time and grow in their relationships with Him at Intensity! Do whatever you need to do to get there with us!
SIGN UP FIRST TO BE IN THE GSM V.I.P. Club!
What's the VIP Club? Click the button below for more info.
FAQ's:
WHO CAN COME TO INTENSITY?
All students that have completed grades 6-12 in 2020 are eligible to attend.
When is intensity?
July 12-15, 2020
WHEN CAN I REGISTER FOR INTENSITY?
Registration opens at 4:01pm on Wednesday, April 1st, 2020.
WHERE IS INTENSITY?
Heart of Texas Baptist Camp
Brownwood, Texas
WHAT IS THE COST OF INTENSITY?
$215
*Registration closes July 5, 2020.
Price includes lodging, meals, Intensity 2020 t-shirt, and activities at camp.
There are also a store and snack bar at camp, and often Intensity worship bands and speakers have merch available as well. Bring extra $$$ for these if you'd like.
I HAVE ALREADY REGISTERED MY STUDENT WITH THE DEPOSIT. HOW DO I FIND OUT HOW MUCH I HAVE LEFT TO PAY AND HOW DO I PAY THAT BALANCE?
If you don't know exactly how much is left on your balance, just call the church office at 817-596-8302 and ask for Julie.
When you go to pay the balance, you have a few options:
1) You can click here, select "Youth" in the "Choose a Fund" menu, then select "Intensity" in the "Choose a Sub-Fund" menu. Enter your payment amount and billing info and the payment will be submitted to our system instantly.
2) You can also write a check or pay cash in person to Jon Hartman, or Ty Hirsch. Just put in the memo "Intensity balance for __________(your student's name)".
DO I NEED TO FILL OUT ANY PAPERWORK FOR MY CHILD TO ATTEND INTENSITY?
Yes. Registration will be considered official with the submission of a registration form [at the top of this webpage], at which point your child's spot will be locked in. However, there are a few other forms that we require in order to allow students to attend Intensity with us that will need to be submitted before July 12th. See below:
This form is required for participation with Greenwood Student Ministry overnight events and renews annually. If your student attended D-NOW in February, we should already have this on file for 2020. If you're not sure, you can always call the church office at 817-596-8302 to check.
This form is required per our campground, Heart of Texas Baptist Camp, in Brownwood, TX. No student is allowed on camp without this completed form.
This form is not required, but if your student has any special dietary needs or restrictions, Heart of Texas can accommodate pretty much anything. They just need to know what needs are present in advance. If your student has any dietary needs/restrictions, please fill out this form and submit it via email here no later than June 29th. We cannot guarantee that we can meet all the needs of forms submitted after June 29th.
AM I ALLOWED TO BRING MY PHONE TO CAMP?
Cell phones are allowed on the bus ride to camp on July 12th and back to the church on Friday July 15th, but not in-between. Our goal is to disconnect from everything around us and enjoy a week in God's creation away from distractions.
***Parents, if there is an emergency and you must contact your student during the week, the leader team's contact info will be provided upon registration.
WHAT SHOULD I BRING TO INTENSITY?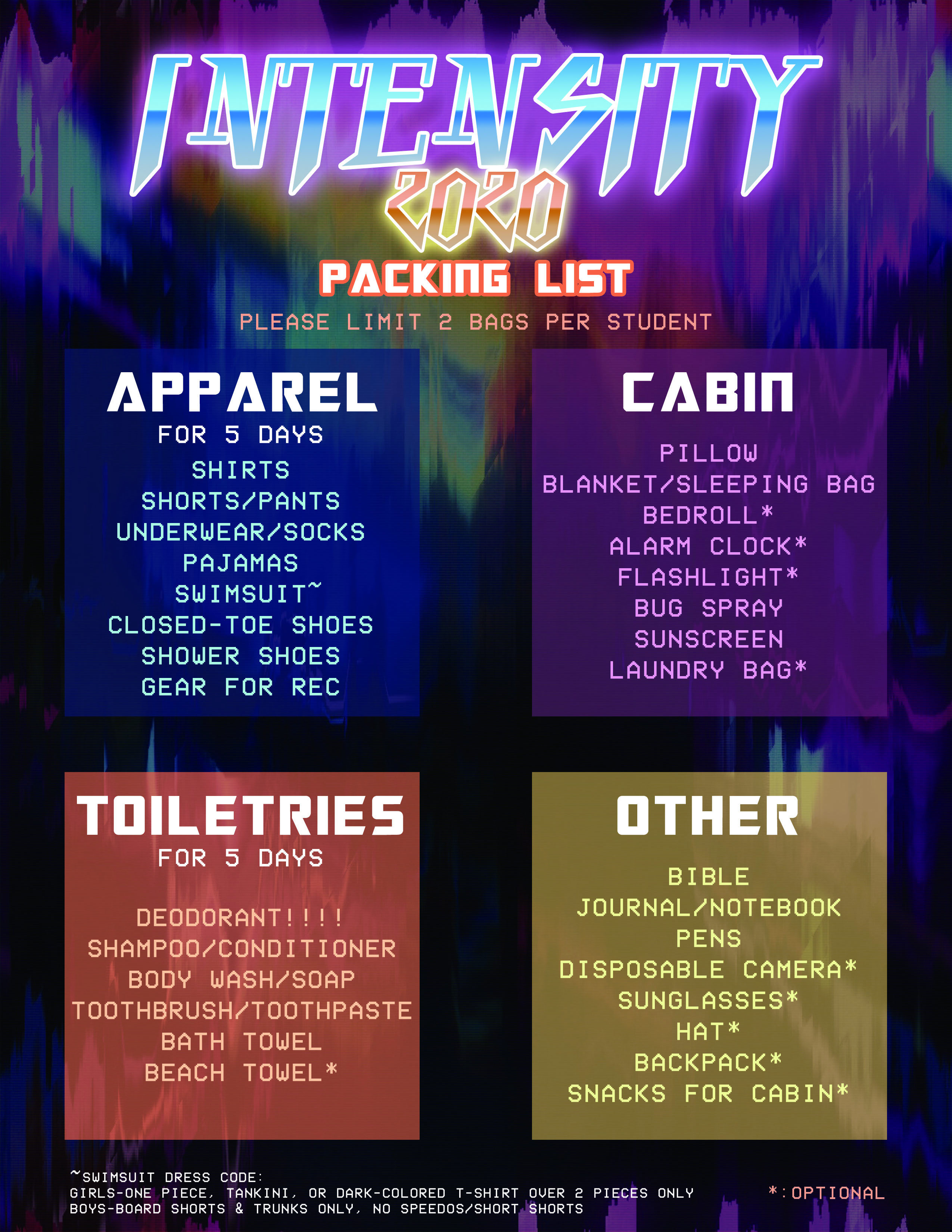 REGISTRATION OPENS APRIL 1ST, 2020, AT 4:01PM.