Kids Camp
July 24-28, 2023
REGISTRATION FOR KIDS CAMP IS CLOSED. PLease Contact jordann or stephanie with any questions.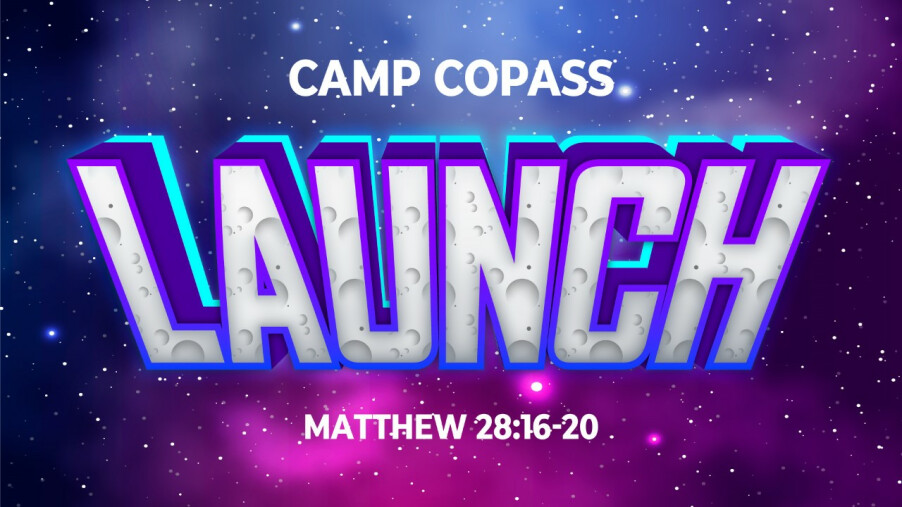 Kids Camp is a 4-day camp experience for kids that have completed grades 3-5 by the end of the Spring 2023 semester. This year our Kid's Camp is called LAUNCH. We believe in these times, it's paramount that we raise kids who are firm in their faith and bold in their actions and beliefs.
Frequently Asked Questions:
WHEN IS KIDS CAMP?
Kids Camp is July 24-28, 2023. Check-in and pick-up information will be provided soon. THIS IS AN OVERNIGHT CAMP.
WHAT IS THE COST OF KIDS CAMP?
$310 per camper
WHO CAN GO TO KIDS CAMP?
All kids that will have completed 3rd, 4th, or 5th grade by the end of the Spring 2023 semester are eligible to attend Kids Camp.
Adult Sponsors are also welcome, but must pass a background check & be approved by church staff prior to attending camp. If you're interested in volunteering for Kids Camp 2023, please contact our 4th & 5th Grade Kids' Minister, Jordann Foland at 817-597-8780.
WHERE IS KIDS CAMP?
Kids Camp will be held at Camp Copass in Denton, TX. Reminder, this is an overnight camp.
WHAT SHOULD MY CHILD BRING TO KIDS CAMP?
Please scroll down to view the packing list.
I HAVE ALREADY REGISTERED MY child WITH THE DEPOSIT. HOW DO I FIND OUT HOW MUCH I HAVE LEFT TO PAY AND HOW DO I PAY THAT BALANCE?
If you don't know exactly how much is left on your balance, just call the church office at 817-596-8302 and ask for Julie.
When you go to pay the balance, you have a few options:
1) You can click here, or scroll to the top of the page and click the green "Balance Payments" button.
2) You can also write a check (payable to Greenwood Baptist Church; des. "Kids Camp Balance for [your child's name]") or pay cash in person to our Kids' Minister, Jordann Foland.
DO I NEED TO FILL OUT ANY PAPERWORK FOR MY CHILD TO ATTEND kids camp?
Yes. Registration will be considered official with the submission of a registration form [at the top of this webpage], at which point your child's spot will be locked in. However, there is one form that we require in order to allow kids to attend Kids Camp with us that will need to be submitted before May 31st. See below:
Greenwood kids Release Form 2023
This form is required for participation with Greenwood Kids Ministry one-day and overnight events and renews annually. This will be the first event requiring this form for 2022, so all kids will need a new form completed in order to attend Kids Camp 2023.
WHAT TO BRING:
● Bible
● Pencil/Pen and Notebook
● Twin bedding – fitted sheet and top sheet
● Pillow & Blanket OR Sleeping bag
● Clothes – at least 2 outfits per day
● Campers wear an outfit from the time they wake up through rec time and will need a new outfit for the evening activity.
● Pajamas
● Shoes – old tennis shoes, water shoes, flip flops/sandals (need at least one pair of closed toe shoes)
● Socks/Undergarments - please send extra
● Shampoo/Conditioner
● Body wash
● Deodorant (yes they will need it)
● Hair brush/comb/hair accessories
● Toothbrush & Toothpaste
● Towels (2 reg & 1 pool)
● Swimsuit (2) – girls one-piece only! T-shirts must be worn over swimsuits on the way to and from the pool for girls and boys.
● Hat/Cap/Sunglasses
● Sunscreen/Bug Spray
● Water bottle
● Trash bag/Dirty clothes bag
● Flashlight
● Backpack (optional)
● Personal Snacks (optional)
● Spending money ($10-$50) for gift shop or snacks
● Kids may bring snacks but they need to be labeled and kept with the other snacks in sealed containers to prevent ants. They will not be able to keep them in their bags or bunks.
●Medications will have to be turned in to the camp nurse and has to be in the original containers in a baggy labeled with your child's name and daily instructions camp nurse and has to be in the original containers in a baggy labeled with your child's name and daily instructions.
WHAT NOT TO BIRNG:
● FIDGET SPINNERS
● ALARM CLOCKS
● VIDEO GAMES OR IPADS OR PHONES
● SKATEBOARDS OR ROLLERBLADES
● PRANK SUPPLIES
● WATER BALLOONS OR WATER GUNS
● ILLEGAL DRUGS, ALCOHOL, TOBACCO
● FIREARMS OR KNIVES
● FIREWORKS OR MATCHES
● CLOTHING WITH QUESTIONABLE SAYINGS OR SLOGANS
Campers who bring their phones will have to turn them in on the first day. They will not be permitted to have or use them at camp. IMPORTANT NOTE: Please label everything with your kids name and do not allow your kid to bring anything that can't be replaced if they lose it. We will do our best to help reunite them with their belongings- but something inevitably will get left if it's not labeled!